Name and Address of Company
Unithai Travel Co., Ltd.
33/47  อาคารวอลสตรีท ชั้น 11 ถนนสุรวงศ์ แขวงสุรวงศ์ เขตบางรัก กทม. 10500
33/47  Wall Street Tower, 11th Floor, Surawongse Rd., Suriwongse, Bangrak, Bangkok.
Tel:  (662) 632-6882-4  (วันจันทร์ – ศุกร์ เวลา 9.30-17.00 น.)
Fax:  (662) 200-0289
E-mail:  unithaitrip.op@unithaitravel.com
ใบอนุญาตประกอบธุรกิจนำเที่ยว
TAT Number: 11/02206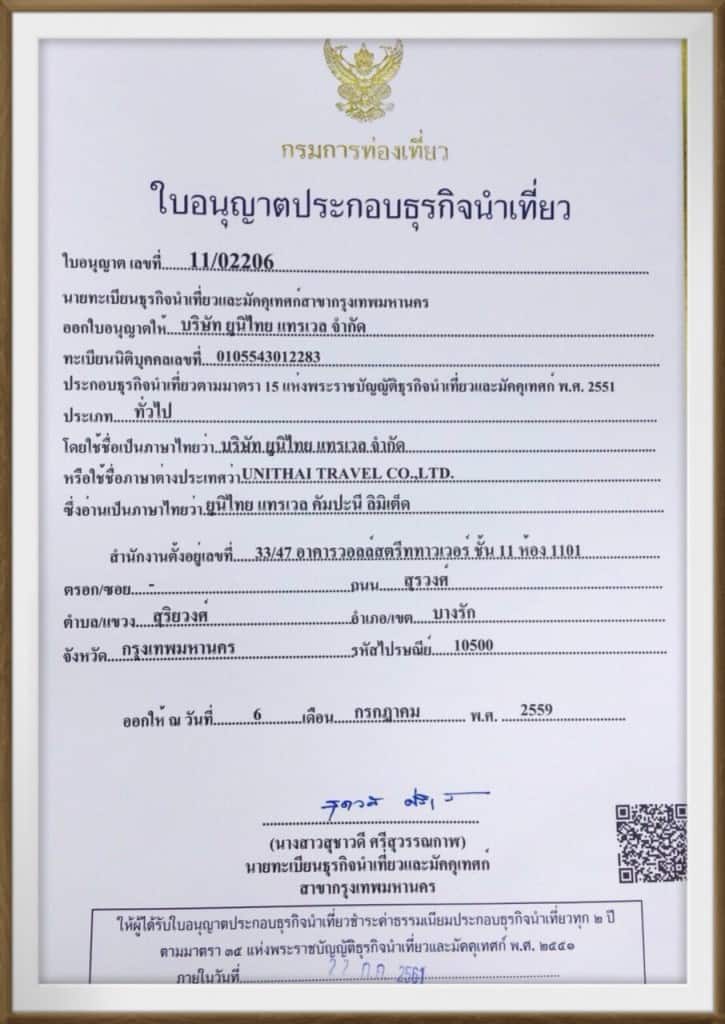 Senior Management
President:  Mr. Anake Srishevachart
Managing Director:  Mrs. Buranee Virapuchong
Bankers:  Bangkok Bank Ltd., Thai Farmers Bank
Unithai Travel is the complete domestic and worldwide travel organizer, handling both inbound (from anywhere else other than Japan), outbound tour business as well as providing other travel related services e.g. air tickets, hotel accommodation reservation, coach rental, etc.  We aim to provide our best services and respond to all requirements of our clients in term of trip details and prices.
We are member of IATA (International Air Transport Association) and BSP (Billing and Settlement Plan) and we represent air ticket issuing office for all airlines. Our management team and staffs have long-term experiences in travel business with good relationship with all travel agents and airlines.  The directors and management of our company are of highly acclaimed professionals in the airlines and travel business society.  The President, Mr. Anake  Srishevachart, twice elected as ATTA (Association Of Thai Travel Agents) President and currently being ATTA Consultant, has been Legal Counselor for China Airlines for more than 2 decades.  Our friendly staff experienced in tailor made planning for both individual and group travelers as well as incentive travel for all domestic inbound and outbound.
Our office is located in the business central area, Surawongse Road, which is convenient for our clients.  Our office warmly welcomes all clients. In handling travel planning for our clients, we focus on the following area:
Package Tour
Our company offers package tour including air ticket and accommodation to various cities all over the world.  We also provide necessary travel information to our clients.  Exploring big city by own self is not difficult with our assistance in travel planning.  Internationally, We can provide Japan Rail Pass to explore Japan, Paris Visit Card when visiting Paris, Europass for travelling around Europe or finding personal guide when you want to walk around Angkor Wat by your self.  The tour designers can help with suggestions, not just to the usual destinations, but the new ones too. We can give as much input as you need, many of our clients know destinations like the back of the hand and will give us a full and details itinerary, others will just give us a budget and ask for a designed tour to match, others may just have an idea about which cities or countries they wish to visit. Using our knowledge and experience – that is why we are here and why we are so successful.     Domestically, we provide various packages selling to Citibank and Diners cardholders since 2002 under 0% interest rate pay lite scheme.   We have to come up with attractive packages from time to time.  With services provided to cardholders, we are certain in our capabilities in servicing all cardholders for Visa.  With online air ticket reservation system, we can check the air ticket space for customers right in time.
Incentive Travel
Our incentive travel planning respond to our clients group by tailor made the program to match the group.  Meanwhile, the design program will be tuned up with the budget of the sponsor.  Our incentive travel program will certainly provide leisure as well as extra knowledge to interest our business like travel group.
Conference Travel
We offer competitive travel services including air and transportation, accommodation and seminar arrangements in Thailand and to/from other destinations in the world.  With our long-term experiences, we guarantee our best services and prices.
Hotel & Accommodation Reservation
We offer the services of hotel and accommodation reservation worldwide.  With our experience in inbound business, we have good rate of hotels all over Thailand.  For international accommodation, we also know where to get the best rate for you. We do not work with every hotel, we select the best ones for you, the best value for money
Air Ticketing Services
In addition to travel package and tour, we also provide the best and competitive airfare for our clients.  Business trip to and from Thailand can be arranged base on your requirement.
Low Price:              We guarantee low price for you in every destination for every airlines.
Credit Term:            30-day credit term will be offered.
M.I.S. Report:          Every month-end, report will be provided to our corporate clients so that our client can check who travel to where within a month, how much air fare is charged as well as credit aging of the company.
Travel Insurance Policy
We provide an option to buy accidental travel insurance for our customers at reasonable rate starting from THB 25 / Pax for the Thai baht 1,000,000 coverage.
รางวัลที่ได้รับ
รางวัลจากสมาคมส่งเสริมการท่องเที่ยวญี่ปุ่น JNTO ปี 2015
รางวัลจากสมาคมส่งเสริมการท่องเที่ยวญี่ปุ่น JNTO ปี 2014